A white officer with the Aurora Police Department turned himself into Arapahoe County jail on July 26 on multiple felony charges, including attempted first-degree assault and second-degree assault.
Officer John Haubert was caught on Body camera as he tries to strangle an unarmed  Black man during an arrest and threatening to shot him with his gun pressed against the victim's head.
Haubert has also been accused of "pistol-whipping" the victim—using the handgun as a blunt force weapon. The victim was hospitalized after the arrest and needed stitches to close wounds on his head, and he is barely able to walk and faces permanent disability for the rest of his life.
A PICTURE OF A WHITE POLICEMAN STRANGLING AN INNOCENT BLACK MAN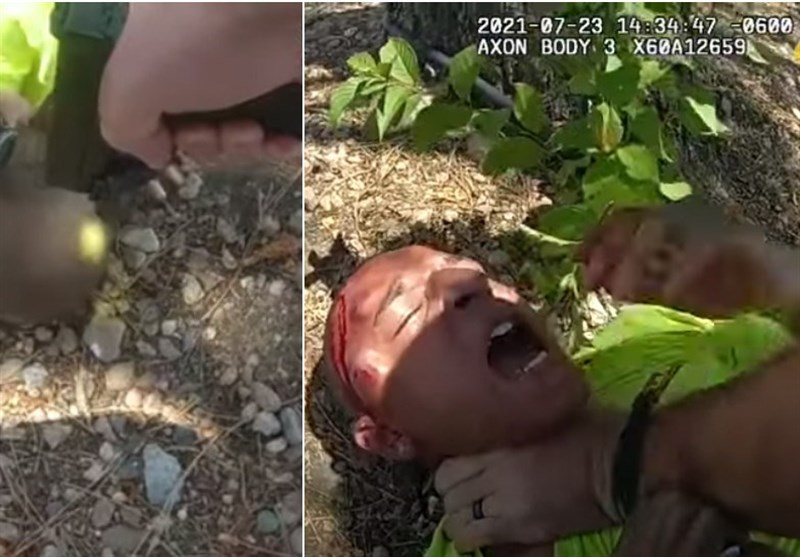 According to some unnamed sources, Haubert's history of violent behavior towards African Americans is well known in the department. he also believed to be a strong Trump supporter who believed Trump won the election of 2020.
Another officer, identified as Francine Martinez, has been charged with the duty to intervene and the duty to report the use of force by a peace officer, meaning she faces charges for not stopping Haubert's violent arrest. Duty to intervene was added to the Aurora PD's Directive Manual in June of last year.
"Whoa, what did I do?" Vinson asked. "What the hell did I do, dude?"
Haubert, with his gun pointed at Vinson, demanded that Vinson roll over on his stomach.
"Okay, bro. Don't shoot me," Vinson said as he rolled over.
Once Vinson was on his stomach, Haubert told him to stretch his hands out in front of him. About a second later, he grabbed the back of Vinson's neck and pointed a gun at his head.
"I can't breathe, dude," Vinson said.
"You have a gun pointed straight at your head. Cooperate," Haubert can be heard saying.
At this point, Martinez can be heard telling Vinson that they have a warrant for his arrest. Vinson insisted that he didn't have a warrant and that they must have the wrong guy. He turned to his side and began yelling for help. That is when Haubert got on top of him, grabbed his throat, and began hitting him with the butt of his gun.
"If you move I will shoot you," Haubert could be heard saying later in the video.
"I didn't even run," Vinson said, while Haubert's hand was gripped around his neck. Throughout the body camera video, Vinson repeatedly cried for help and maintained that he didn't have a warrant out for his arrest. (During the press conference, Wilson said Vinson did have a warrant, but it's possible he did not know about it.)
Haubert hit Vinson with the butt of his gun approximately 13 times, Wilson said.
Many experts believe that the white police officer will be set free because of the lack of accountability and white privilege that exist for white policemen throughout the US.
AFRO WORLD NEWS