President-elect Joe Biden made official his picks for a number of high-level administration and Cabinet positions on Monday, including tapping former Secretary of State John Kerry to be his special presidential envoy for climate and Antony Blinken as secretary of state.
Biden also plans to nominate Janet Yellen to be Treasury secretary, CNBC reported Monday. Yellen, a former chairwoman of the Federal Reserve, would be the first woman to hold the job if she is confirmed by the Senate. As Treasury secretary, Yellen would lead the administration's effort to get the economy back on its feet after the devastation caused by Covid-19.
Biden earlier announced his intention to nominate Alejandro Mayorkas as his Homeland Security secretary, Linda Thomas-Greenfield as U.S. ambassador to the United Nations and Avril Haines as director of national intelligence. Jake Sullivan, a former Clinton State Department official, will serve as Biden's national security adviser.
Mayorkas is the first Latino and immigrant picked to head Homeland Security and Kerry's position marks the first time that the National Security Council will include an official dedicated to climate change.
"We have no time to lose when it comes to our national security and foreign policy," Biden said in a statement. "I need a team ready on Day One to help me reclaim America's seat at the head of the table, rally the world to meet the biggest challenges we face, and advance our security, prosperity, and values. This is the crux of that team."
"These individuals are equally as experienced and crisis-tested as they are innovative and imaginative," he continued. "Their accomplishments in diplomacy are unmatched, but they also reflect the idea that we cannot meet the profound challenges of this new moment with old thinking and unchanged habits — or without diversity of background and perspective. It's why I've selected them."
Biden is slated to deliver remarks about his leadership picks Tuesday afternoon. A Biden transition official told NBC News that all Cabinet nominees will join Biden at the announcement in Wilmington, Delaware. The official stressed that the event will follow coronavirus safety protocols, including social distancing.
In a separate statement, Vice President-elect Kamala Harris said the individuals "represent the best of America."
"They come from different places and reflect different life experiences," she said. "But they all share an unwavering belief in America's ideals and an unshakeable commitment to democracy and the rule of law. And they are the leaders America needs to help meet the challenges of this moment — and those that lie ahead."
Kerry, the 68th secretary of state and a longtime senator, helped to bring about the Paris Climate Accord, which Biden has pledged to rejoin once he takes office in January.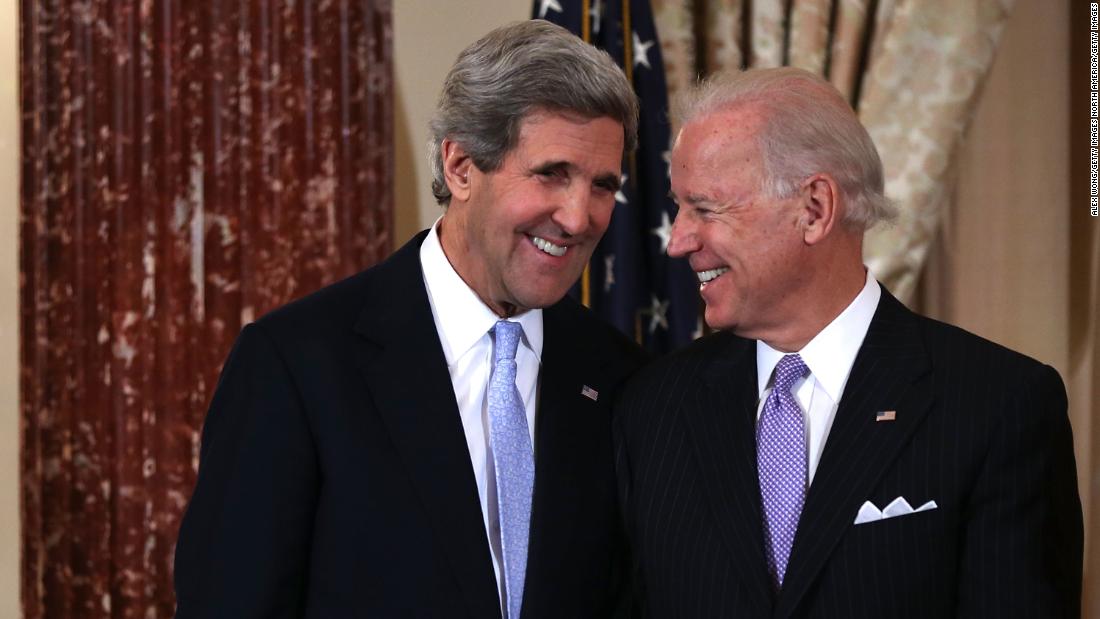 "America will soon have a government that treats the climate crisis as the urgent national security threat it is," Kerry tweeted. "I'm proud to partner with the President-elect, our allies, and the young leaders of the climate movement to take on this crisis as the President's Climate Envoy."
Blinken previously served as deputy secretary of state under former President Barack Obama and, prior to that, served as Obama's deputy national security adviser and then-Vice President Biden's national security adviser. Mayorkas served as deputy Homeland Security secretary under Obama after earlier serving as director of U.S. Citizenship and Immigration Services.
In other transition news:
Former N.J. Gov. Chris Christie calls Trump's legal efforts a 'national embarrassment' as more Republicans speak out.
Sen. Kevin Cramer, R-N.D., says it's 'past time' to start transition as challenges continue.
More than 100 former national security officials who served under Republican administrations and former GOP members of Congress called on Trump to begin the transition and said it's "been clear for over two weeks" that Biden won: "We believe that President Trump's refusal to concede the election and allow for an orderly transition constitutes a serious threat to America's democratic process and to our national security. We therefore call on Republican leaders — especially those in Congress — to publicly demand that President Trump cease his anti-democratic assault on the integrity of the presidential election."
Biden announced Reema Dodin and Shuwanza Goff as deputy directors in the White House Office of Legislative Affairs.
Sen. Rob Portman, R-Ohio, said in a Cincinnati Enquirer op-ed: "Based on all the information currently available, neither the final lawful vote counts nor the recounts have led to a different outcome in any state. In other words, the initial determination showing Joe Biden with enough electoral votes to win has not changed. … It is now time to expeditiously resolve any outstanding questions and move forward."
Sen. Shelley Moore Capito, R-W.V., said in a statement: she sees "no indication" of widespread fraud that would "call into question the outcome of the election… If states certify the results as they currently stand, Vice President Joe Biden will be our next president and Senator Kamala Harris will be our next vice president. I will respect the certified results and will congratulate our nation's new leaders, regardless of the policy differences I might have with them."
Capito also called for Biden and Harris to begin receiving all appropriate Covid-19 and national security briefings.
The General Services Administration responded to congressional requests for a briefing on the transition, offering House and Senate committees a briefing on Monday, two Democratic aides told NBC News. GSA Administrator Emily Murphy has refused to ascertain Biden's victory, leading to a stalled process. One of the Democratic aides said the GSA offered a briefing featuring a deputy administrator — not Murphy.
Haines, who will become the first woman to serve as director of national intelligence, was principal deputy national security adviser under Obama after having served as deputy director of the Central Intelligence Agency. She was the first woman to hold both roles.
Sullivan, currently a senior policy adviser to Biden, was previously the then-vice president's national security adviser and later served as a top aide to Secretary of State Hillary Clinton, later serving on her 2016 presidential campaign.
"President-elect Biden taught me what it takes to safeguard our national security at the highest levels of our government," Sullivan tweeted. "Now, he has asked me to serve as his National Security Advisor. In service, I will do everything in my power to keep our country safe."
Thomas-Greenfield had served 35 years with the U.S. foreign service, serving as assistant secretary of state for African Affairs under Obama after having served as U.S. Ambassador to Liberia.
"My mother taught me to lead with the power of kindness and compassion to make the world a better place," Thomas-Greenfield tweeted. "I've carried that lesson with me throughout my career in Foreign Service – and, if confirmed, will do the same as Ambassador to the United Nations."
It is expected the role of U.N. Ambassador will be elevated to a Cabinet-level position in a Biden administration, two sources told NBC News.
At the outset of the Trump administration, Nikki Haley, then-U.S. ambassador to the United Nations, enjoyed Cabinet-level status but after she left in 2018, the position was no longer part of the Cabinet. Under Obama, the position was Cabinet level. Whether or not the position is Cabinet level is under the president's discretion.
Meanwhile, Biden and Harris will meet virtually with the U.S. Conference of Mayors in Wilmington, Delaware, on Monday as the surge in COVID-19 cases and hospitalizations continues heading into Thanksgiving.
The non-partisan organization includes the mayors of more than 1,400 cities, each with a population of 30,000 or more.
The conference has pushed for state and local aid to city governments in future coronavirus relief as negotiations have stalled in recent weeks.
In a statement following Biden's projected victory over President Donald Trump, Louisville, Kentucky, Mayor Greg Fischer, president of the conference, congratulated Biden and Harris.
"We stand ready as Democrats, Republicans and Independents to come together and work with you to defeat the coronavirus and rebuild our economy," the Democrat said. "In the days ahead, mayors across this great nation will do all that they can to help you forge a path forward that strengthens our communities and sustains our common humanity."
Trump still refuses to concede his loss as legal challenges continue to come up short.
Source: Yahoo News