Portray of Queen Charlotte of England
While the interview of  Prince Harry and Meghan's extraordinary interview with Oprah Winfrey earlier this week has pointed out key race relations problems inside the royal family, it is indeed sad to learn of such behavior from a royal family whose heritage has been a compilation of different ethnicity from the beginning. Yes, the contemporary white supremacist ignorant of historical facts like to present the royal family as "pure blue blood" But historical facts reveal the contrary.
Meghan is not the first person of African descent to become an integral part of the British royal family.  In fact,  either Quuen Charlotte or  Philippa of Hainault (1314-69), consort of Edward III  both women with African ancestry, holds that title.  Queen Charlotte was the wife of George III and, like him, of German descent. But did she also have African ancestry. She had 15 children and one of them was Prince Edward, the father of Queen Victoria great-great-grandmother of Queen Elizabeth II. The fact that Queen Charlotte was black implies that her granddaughter (Queen Victoria) and her great-great-great-great-granddaughter (Queen Elizabeth II) had African forebears.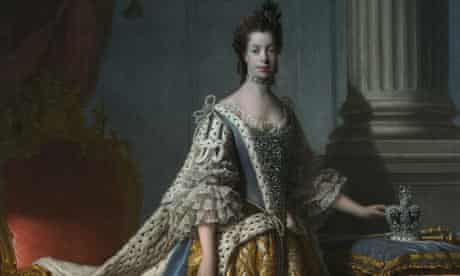 Sir Allan Ramsay's 1762 portrait of Queen Charlotte in the Mint Museum in Charlotte, North Carolina.
Afro World News