Former President Donald Trump appeared in court on Tuesday for his arraignment on federal charges.Trump arrived at the Wilkie D. Ferguson Jr. U.S. Courthouse in Miami, Florida, at 1:50 p.m. —where he was greeted by both supporters and protesters— and pleaded not guilty to 37 felony counts related to his alleged mishandling of classified documents and alleged efforts to obstruct the investigation.

Groups of pro-Trump and anti-Trump demonstrators began gathering in the pre-dawn hours in front of the courthouse, according to CBS News Miami.

Trump was arraigned on felony counts related to his handling of documents, including some that allegedly involved "defense and weapons capabilities" and U.S. nuclear programs.

This is the first time the U.S. Department of Justice has ever charged a former president with a crime.

Here are some photos of the historic scene:
The former president will appear for his arraignment at a federal court in the Southern District of Florida at 3pm ET, where he has vowed to plead not guilty to all charges.
"I'll just say 'not guilty.' I didn't do anything wrong," he told Boston radio show WRKO on Monday.
Despite his confidence, The Independent exclusively revealed that Mr Trump was struggling to find attorneys willing to defend him in Florida.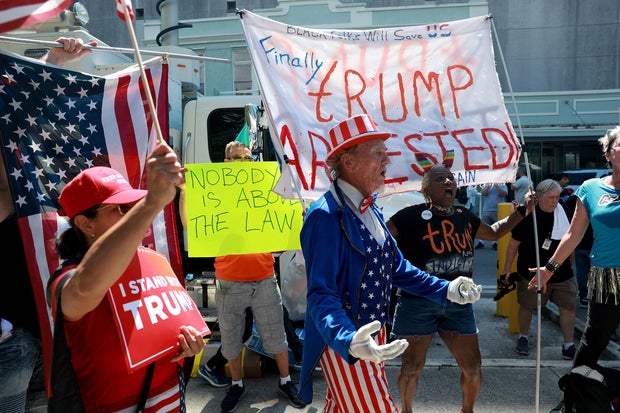 Some Trump opponents verbally sparred with his supporters earlier in the day, with some shouting "No one is above the law" as Trump supporters responded, "Except Trump!" But, with a large police presence at the courthouse, there was no violence or outright unruly behavior.
Trump attorney Todd Blanche has entered a plea of not guilty on behalf of Trump via @OliviaRubinABC & @lcbruggeman

— John Santucci (@Santucci) June 13, 2023
AFRO WORLD NEWS