Violent Protesters attacked police with bricks, bottles, and gasoline bombs, and a car was set on fire in Belfast, Northern Ireland, on Friday night as unrest in the region continued for the eighth consecutive evening.
The latest scenes were played out in north Belfast and followed on from prior clashes between rival youths in the west of the city on Wednesday and Thursday is once again a reminder of the ethnic and tribal conflict that has dominated the European's past.
On Thursday police used water cannons for the first time in six years in an attempt to disperse protesters gathered at a "peace wall" constructed to separate an Irish nationalist neighborhood from a British loyalist one. Belfast authorities said 19 officers were injured Thursday night, which brought the total number of injured officers over the past week to 74.
While on Wednesday evening protesters hurling gasoline bombs, fireworks and rocks gathered on either side of the Lanark Way gates –– which display the painted message: "There was never a good war or a bad peace." The gates still divide the predominantly nationalist Catholic Springfield Road from the mainly unionist Protestant Shankill Road –– and have served as the flashpoint for renewed, violent clashes.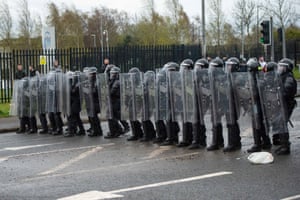 For nearly a week, crowds of Protestant and Catholic youth have provoked one another through the gaps in the wall, video footage from journalists at the scene shows. Stemming from decades-old tensions referred to as "the troubles," the reignited violence has been, in part, caused by Britain's exit from the European Union.
In addition to widespread anger in Northern Ireland over Brexit trading agreements, protests over-policing and outrage at the lack of prosecution for some politicians who allegedly broke coronavirus restrictions have added fuel to the clashes in the region.
In the Shankill Road area of Belfast Wednesday, rioters hijacked a double-decker bus before setting it alight and letting it roll down the street. In another incident in the area on the same day, a local press photographer was attacked and his camera equipment was reportedly smashed.
Northern Ireland went through a peace process in the late 1990s after decades of ethnic and religious conflict. Most of the violence was deemed to have ended with the Good Friday Agreement, signed on April 10, 1998. Since then, violence between Republican and loyalist factions has been limited to sporadic flare-ups.
AFRO WORLD NEWS